TOMASZ JUSZA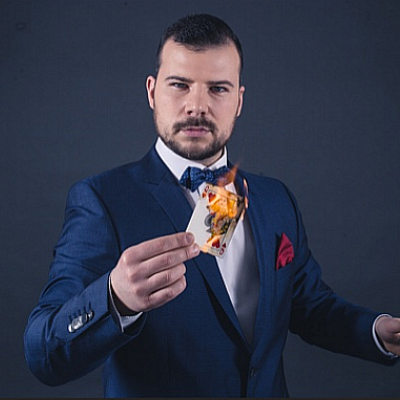 An artist of the young generation, perfectly combining his unique style of performances with a modern approach to providing entertainment at the highest level. His shows are extraordinary performances full of magic, humor, positive emotions and unforgettable impressions.
For over 15 years he has been active on stages all over the country. His artistry and talent have been appreciated by global brands such as Google, Toyota, Swarovski, Ergo Hestia, ING, LIDL, Leroy Merlin, SEPHORA, as well as hundreds of art agencies, hotels and cultural institutions. He has already performed over a thousand performances, creatively adding splendor to the most important business events, galas and ceremonial banquets. He was also a guest of TVN, TVP and Polish Radio. He performed excellently in the MAM TALENT program, where the charmed jury awarded him 3 times YES!
Tomasz is also the creator of the Illusion Project – a modern view on the art of illusion, in which he uses iPads, lasers and other modern technologies instead of a magic wand and cylinder. This concept is a unique and very modern approach to the issue of performances for the modern, intelligent viewer who expects shows refined in every detail. The constant development of the repertoire and constant work on his skills make him one of the best and most active magicians in Poland.
In 2013-2014, Tomasz participated in an EU project, the aim of which was to acquire the skills necessary to run his own business, as well as funds to start it. The project, the beneficiary of which was Profesja, turned out to be a bull's eye in his career – the substantive process of project management by the Profesja company, as well as many fruitful contacts and specialist training courses developed his knowledge in business, accounting and marketing matters. An intensive series of meetings and lectures conducted by the Profesja resulted in the preparation of a highly rated business plan, which guaranteed him the highest possible subsidy to start a business. It was a turning point in his business, and therefore artistic, career.
Privately, Tomasz is a telecommunications engineer with a master's degree. The technical education and the artist's soul constitute a unique collage of precision and artistry. This combination, supported by professionalism and constant pursuit of perfection, creates a charismatic personality and a unique artistic style – full of elegant humor, intelligent narratives and manual craftsmanship.
More information can be found at the following links:
www.tomaszjusza.com
https://www.facebook.com/Iluzjonista.Tomasz.Jusza
https://vimeo.com/300624468
https://vimeo.com/301199708
Tomasz Jusza